| | | | |
| --- | --- | --- | --- |
| Relazione e intersoggettività: prospettive filosofiche / Relación y intersubjectividad: perspectivas filosóficas / Relation and Intersubjectivity: Philosophical Perspectives | | | |
Written by Adriano Fabris
Tuesday, 22 December 2015 00:00
There are no translations available.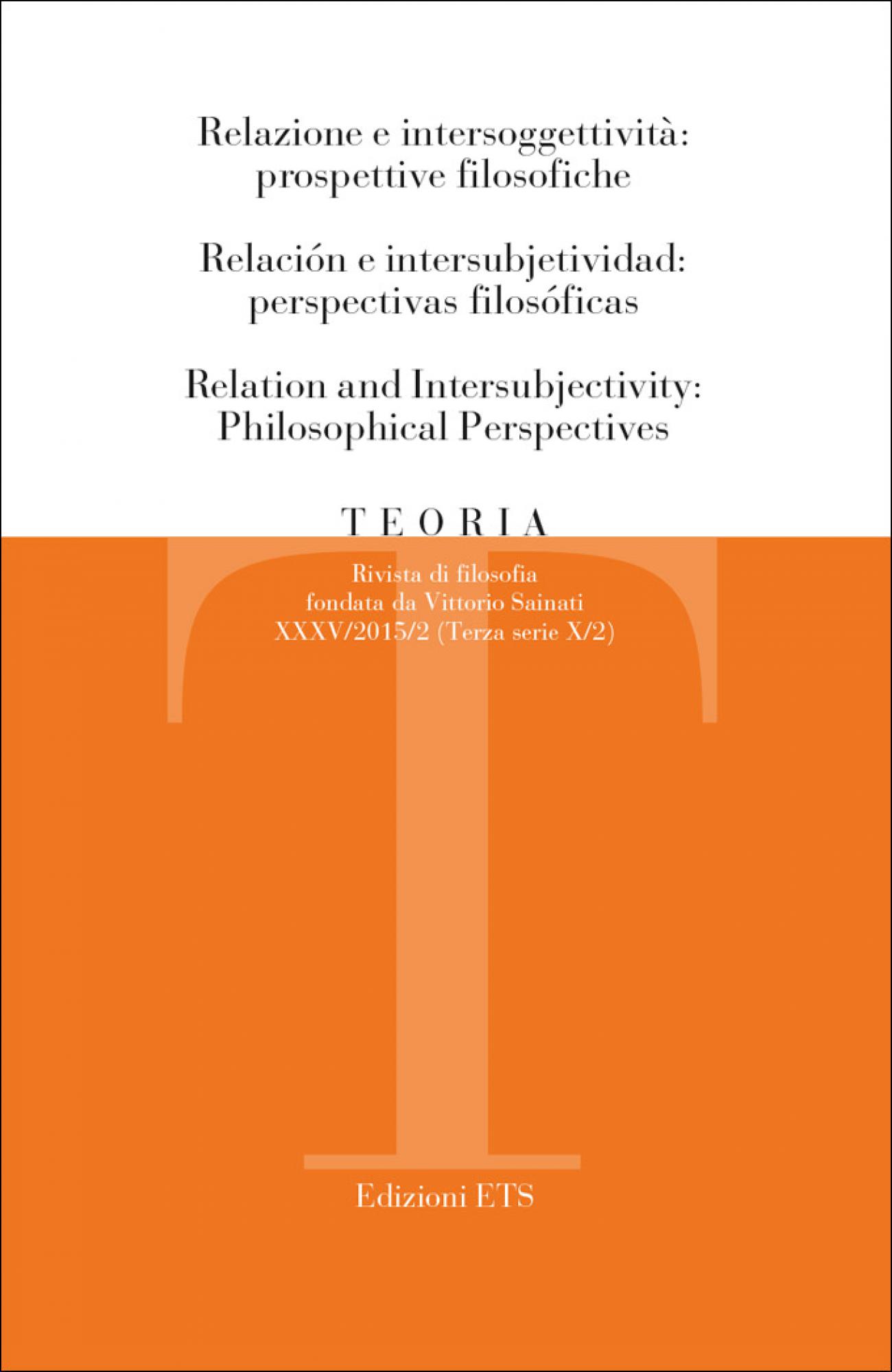 Questo fascicolo pubblica i risultati di un progetto di ricerca internazionale, che coinvolge otto studiosi latinoamericani e sette studiosi europei, sul tema della relazione. Nel pensiero filosofico moderno, il più delle volte, la relazione con altro è stata fondata sulla relazione con sé. Ciò ha comportato esiti problematici anche su di un piano pratico, specialmente in Europa. Il confronto fra filosofi europei e latinoamericani che viene qui proposto vuole individuare nuovi modi di pensare e vivere la prospettiva della relazione, anche nell'epoca delle nuove tecnologie.
In this issue of Teoria we publish the outcomes of an international research project on relationship that has involved eight scholars from Latin America and seven scholars from Europe. In contemporary philosophical debate, relationship with the other is mostly founded on relationship with oneelf. This has led to difficult outcomes in the practical field, especially in Europe. The exchange between European and Latin-American philosophers in this issue aims at proposing new ways of thinking of and living relationship, also with regard to modern technologies.

Acquista il fascicolo cartaceo / Buy this issue (print version)
Read more...
Written by Adriano Fabris

Wednesday, 27 May 2015 14:41

There are no translations available.




Questo volume è dedicato al tema «Soggettività e assoluto». Si parte dalla constatazione che la crisi che nel Novecento ha caratterizzato il rapporto tra il soggetto e ciò che viene chiamato "assoluto" (Dio, ad esempio, o un qualche principio incondizionato) non ha affatto eliminato la necessità d'interrogarsi ancora su questi fenomeni. Il volume affronta la questione tematizzando il rapporto dinamico tra particolare e universale.

The topic of the current issue of «Teoria» is «Subjectivity and the absolute». A research on the relationship between the subject and the absolute paves the way for a philosophy which devotes its attention to particular and concrete phenomena and at the same time is able to examine the particular in its dynamic relationship with the universal.



Scritti di / writings by: Salvatore Natoli, Ugo Perone, Claudio Ciancio, Adriano Fabris, Iolanda Poma, Maurizio Pagano, Mario Farina, Alessandra Cislaghi, Daria Dibitonto, Francesco Paolo Ciglia, Ezio Gamba, Marco Saveriano, Emanuela Magno, Marcello Ghilardi

Acquista il fascicolo cartaceo / Buy this issue (print version)

 

Last Updated on Wednesday, 27 May 2015 16:23
Read more...

| | | | |
| --- | --- | --- | --- |
| Call for papers «Teoria» 2016/1 | | | |

Written by Adriano Fabris

Tuesday, 27 January 2015 14:40

There are no translations available.




«Teoria», 2016/1

New Perspectives on Dialogue / Nuove prospettive sul dialogo

Guest Editors: Paolo Biondi, Flavia Monceri

 

 

Call for papers

To be sure, "dialogue" has become one of the core reference notions to address fundamental issues of present time, such as cultural and religious plurality, and more generally to come to understand as well as to practically deal with diversity and differences. This issue of «Teoria» aims at providing a wide selection of current theoretical and practical perspectives on dialogue, by means of collecting contributions coming broadly from the humanities and the social sciences. This would hopefully result in a comprehensive picture of the complex range of definitions, meanings and practices connected to "dialogue", also giving voice to critical and intersectional positions. But alongside with such picture, the aim of this issue is to let new perspectives become visible, or even emerge, to rethink the notion of dialogue as a whole, as well as to make it more and more "viable" in our complex world.

 

Contributions may be submitted on the following topics (non-exclusive  list):

Dialogue theories
Dialogue and intercultural communication
Dialogue as mediation, dialogue beyond mediation
Dialogue as a tool to promote global understanding
Dialogue, power and politics
Non-western perspectives on dialogue
Dialogue and ethics
Dialogue, religions, inter-religious dialogue
Practices of dialogue, dialogue in practice
Dialogue, learning and education

Alongside with a few invited ones, a number of contributions will be selected as a result of this call for papers. Prospective authors should send by June 30, 2015 an abstract in English (max 1000 words), including the title of the paper, name, affiliation and e-mail address of the (corresponding) author to the following e-mail addresses: This e-mail address is being protected from spambots. You need JavaScript enabled to view it , This e-mail address is being protected from spambots. You need JavaScript enabled to view it (Dr. Paolo Biondi), This e-mail address is being protected from spambots. You need JavaScript enabled to view it (Prof. Flavia Monceri), This e-mail address is being protected from spambots. You need JavaScript enabled to view it (Prof. Adriano Fabris) with the indication "Teoria 2016-New Perspectives on Dialogue" in the subject heading. Abstracts will be peer-reviewed and the notification of acceptance or refusal will be given by July 31, 2015.

The final draft can be written in Italian, English, French, German or Spanish. It should adopt a non-discriminatory language and must be submitted by October 15, 2015 to undergo the peer-review process. The Editorial board reserves the faculty not to accept the final drafts that do not correspond to submitted abstracts, or do not pass the further selection process to which final drafts will be submitted. Moreover, the Editorial board reserves the faculty to ask the Authors to revise their contributions to fit them to the referees' evaluations and/or editorial standards. The final notification of acceptance or refusal, as well as of the eventual requests for minor or substantial revisions will be given by December 30, 2015.

The final revised draft, including an English abstract no longer than 150 words, must be submitted by February 15, 2016. Authors are requested to follow the style guidelines of «Teoria», which are available on its website (http://www.rivistateoria.eu). Contributions should not exceed 7500 words (including eventual footnotes, reference list and abstract).

Last Updated on Wednesday, 28 January 2015 18:58
«
Start
Prev
1
2
3
4
5
6
Next
End
»
Page 1 of 6