Written by Edizioni ETS
Tuesday, 18 December 2018 10:36
There are no translations available.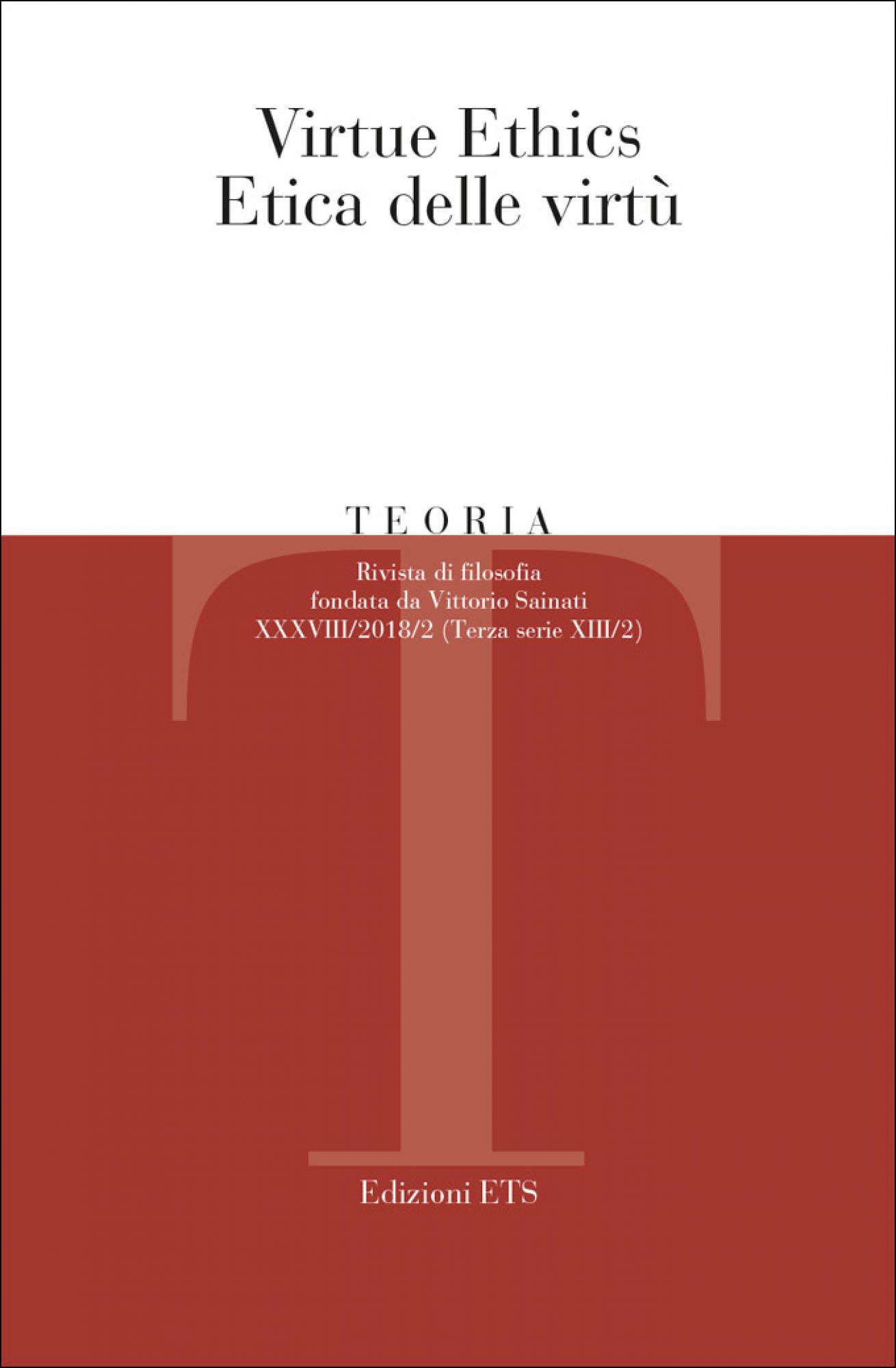 Questo numero monografico è dedicato all'Etica delle Virtù. La prima sezione è presentata dai principali esponenti delle correnti in cui oggi l'etica della virtù si articola, successivamente discussa da studiosi che si misurano con alcuni dei suoi snodi più problematici. La seconda sezione del fascicolo tratta temi centrali dell'Etica delle virtù e della tradizione che la sottende. Nella terza parte ci si sofferma su alcune critiche rivolte ad essa o ad alcune sue correnti.
The present special issue is devoted to Virtue Ethics. In the first section the Virtue Ethics is presented directly by the most notable representatives of its main trends and discussed by scholars who are trying to address (and assess) some of its crucial assumptions. The second section discusses some key issues within the virtue-ethical debate and the tradition underlying it. The third section hosts some critical voices of Virtue Ethics or of some of its trends.
Scritti di / Essays by: Angelo Campodonico, Maria Silvia Vaccarezza, Julia Annas, Giacomo Samek Lodovici, Michael Slote, Christine Swanton, Linda Zagzebski, Howard Curzer, Franco Manti, Mark Alfano, Lorenzo Greco, Michel Croce, Andrea Pace Giannotta.
Last Updated on Tuesday, 18 December 2018 11:07
Read more...
Written by Administrator

Monday, 23 July 2018 09:11

There are no translations available.




Questo fascicolo di «Teoria» propone una riflessione sulle domande di fondo che abbiamo ereditato dal passato, dalla filosofia greca e latina. Si tratta certamente di una riflessione compiuta alla luce delle risposte che nel corso della storia del pensiero a tali domande sono state fornite. Ma soprattutto è il tentativo di verificare se queste risposte sono state esaurienti o se restano margini per sperimentare ulteriori alternative per la filosofia, per dischiudere nuovi percorsi, al fine di comprendere sempre meglio noi stessi e il nostro mondo.


This issue of «Teoria» is a reflection on the past, on the philosophical questions that were first raised in Greek and Latin worlds. It is, then, a reflection made in the light of answers that the history of philosophical thought has provided to these questions. It is, above all, an attempt to verify whether these answers have been exhaustive, or whether there are further possibilities, other alternatives for philosophy to pursue, in order that we may better understand ourselves and our world.

Scritti di / Essays by: Kenneth Seeskin, Francesco Ademollo, Robert W. Wallace, Bruno Centrone, Stefano Perfetti, Flavia Monceri, Veronica Neri, Andrina Tonkli-Komel, Alessandro Prato, Giuliana Di Biase, Maria Benedetta Saponaro, Orietta Ombrosi.

Last Updated on Monday, 23 July 2018 10:16
Read more...

Written by Administrator

Thursday, 15 March 2018 09:12

There are no translations available.




Una riflessione critica sull'attualità della categoria filosofica di fiducia appare oggi un tema di primo piano nell'ambito della ricerca filosofica contemporanea.

Con questo fascicolo di «Teoria» si intendono aprire alcune considerazioni sul tema della fiducia, a partire dal suo significato etimologico, dal vocabolo latino fides, "fede" e dal radicale indoeuropeo *bheidh/bhidh, il quale, in greco, si rintraccia nel verbo πείθω, "persuado" e nel sostantivo πίστις, che significa sia "fiducia" che "fede.

Last Updated on Wednesday, 21 March 2018 17:24
Read more...
«
Start
Prev
1
2
3
4
5
6
7
8
9
Next
End
»
Page 2 of 9