Written by Administrator
Monday, 23 July 2018 09:11
There are no translations available.
Questo fascicolo di «Teoria» propone una riflessione sulle domande di fondo che abbiamo ereditato dal passato, dalla filosofia greca e latina. Si tratta certamente di una riflessione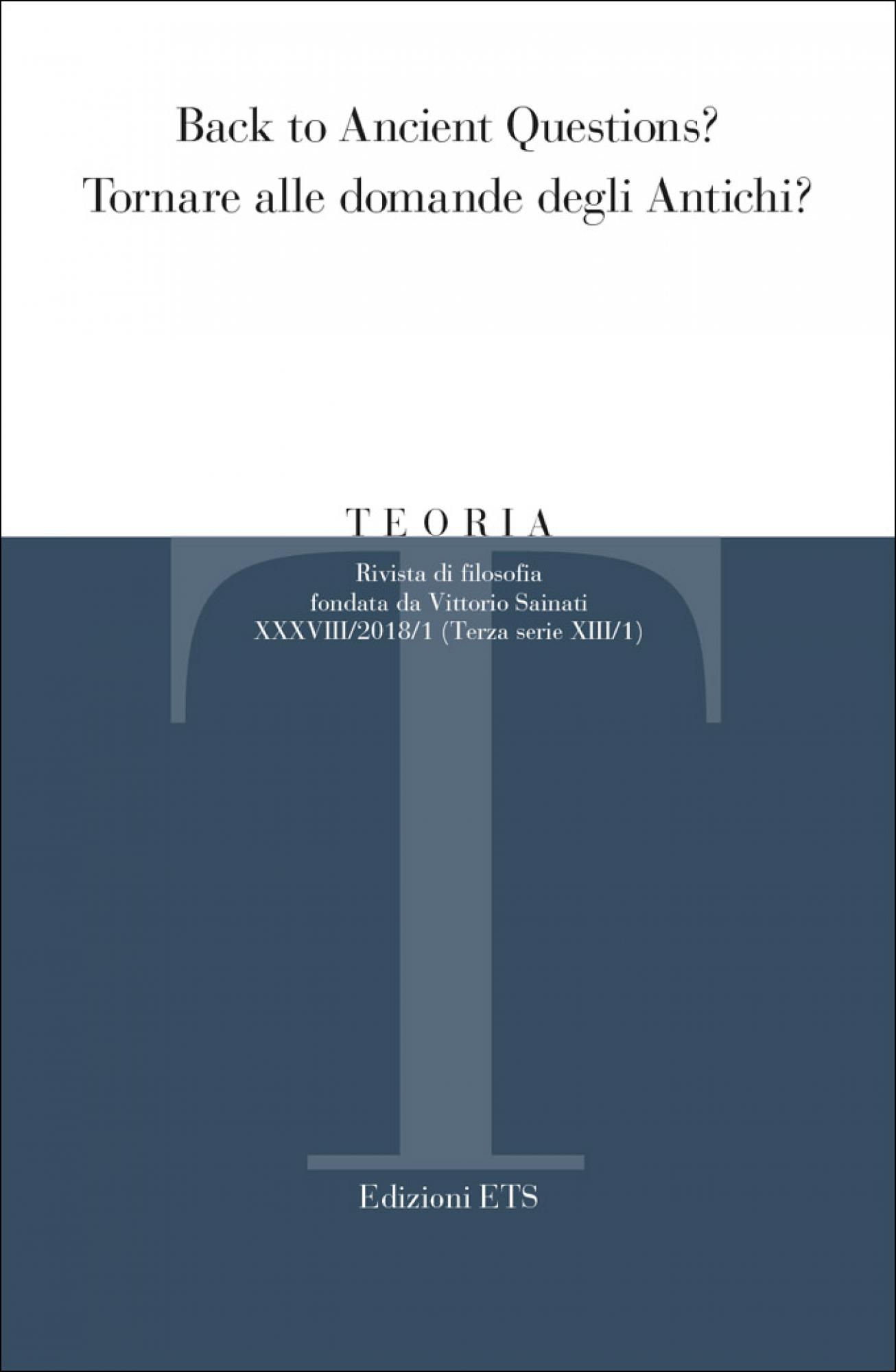 compiuta alla luce delle risposte che nel corso della storia del pensiero a tali domande sono state fornite. Ma soprattutto è il tentativo di verificare se queste risposte sono state esaurienti o se restano margini per sperimentare ulteriori alternative per la filosofia, per dischiudere nuovi percorsi, al fine di comprendere sempre meglio noi stessi e il nostro mondo.

This issue of «Teoria» is a reflection on the past, on the philosophical questions that were first raised in Greek and Latin worlds. It is, then, a reflection made in the light of answers that the history of philosophical thought has provided to these questions. It is, above all, an attempt to verify whether these answers have been exhaustive, or whether there are further possibilities, other alternatives for philosophy to pursue, in order that we may better understand ourselves and our world.

Scritti di / Essays by: Kenneth Seeskin, Francesco Ademollo, Robert W. Wallace, Bruno Centrone, Stefano Perfetti, Flavia Monceri, Veronica Neri, Andrina Tonkli-Komel, Alessandro Prato, Giuliana Di Biase, Maria Benedetta Saponaro, Orietta Ombrosi.
Last Updated on Monday, 23 July 2018 10:16
Read more...
Written by Administrator

Thursday, 15 March 2018 09:12

There are no translations available.




Una riflessione critica sull'attualità della categoria filosofica di fiducia appare oggi un tema di primo piano nell'ambito della ricerca filosofica contemporanea.

Con questo fascicolo di «Teoria» si intendono aprire alcune considerazioni sul tema della fiducia, a partire dal suo significato etimologico, dal vocabolo latino fides, "fede" e dal radicale indoeuropeo *bheidh/bhidh, il quale, in greco, si rintraccia nel verbo πείθω, "persuado" e nel sostantivo πίστις, che significa sia "fiducia" che "fede.

Last Updated on Wednesday, 21 March 2018 17:24
Read more...

Written by Mario De Caro, Massimo Marraffa

Monday, 18 December 2017 00:00

There are no translations available.




Questo fascicolo di «Teoria» si propone di prendere in esame le ricadute della scienza cognitiva dell'etica su una varietà di temi di metaetica, etica normativa, etica applicata e filosofia del diritto. Sono state dunque indagate criticamente le scoperte della neuroscienza cognitiva concernenti la responsabilità morale e legale.

The purpose of this issue of «Teoria» is to explore the relevance of the cognitive science of morality for a variety of topics in metaethics, normative ethics, applied ethics, and philosophy of law. In particular articles are concerned with how recent cognitive science findings affect our practices of attributing moral and legal responsibility.

Scritti di: Mario De Caro, Massimo Marraffa, Daniel C. Dennett, Felipe De Brigard, Lacey J. Davidson, Benedetta Giovanola, Rossella Guerini, Andrea Lavazza, Uwe Peters, Simone Pollo, Massimo Reichlin, Maria Grazia Rossi, Daniela Leone, Sarah Bigi, Elisabetta Sirgiovanni, Veronica Neri.

Last Updated on Friday, 19 January 2018 11:33
Read more...
«
Start
Prev
1
2
3
4
5
6
7
8
9
Next
End
»
Page 3 of 9